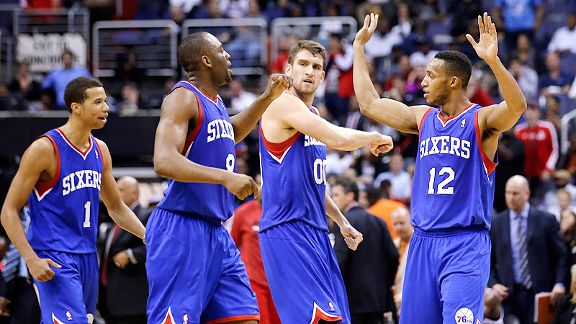 A rare moment of celebration for the 2014 Sixers.
The Philadelphia 76ers are one of the NBA's more peculiar teams, to say the least. After a miraculous, scorching 3-0 start to the regular season, the Sixers' 2014 journey has encountered some extremely rocky terrain -- including conceding 121+ points on five separate occasions in regulation games, and becoming the "owners" of some
unwanted, murky defensive records
. Looking for perspective and some semblance of solace for disenchanted Sixer fans, I sought the wisdom of
Tom Sunnergren
of
Hoop76.com, an ESPN True Hoop Network blog
, who has the unenviable task of regularly watching Philadelphia basketball. Tom offered his educated, impassioned insights, and I've compiled them below.
Angus Crawford: Michael-Carter Williams did not play from December 4 to December 20, during which time the Sixers lost seven straight games. What changes most about this team's identity without the rookie point guard in the line-up?
Tom Sunnergren: Here's the thing about that: Michael Carter-Williams is very good, and the guy who replaces him in the lineup, Tony Wroten, is not.
By measure of wins produced
, Carter-Williams is the most productive player on the team on a per-minute basis while Wroten's – 1.39 wins produced make him not only the worst member of the 2013-14 Sixers, but
the least productive player in the NBA
this side of Anthony Bennett. The calculus is pretty simple: take mediocre team, replace its best player with one of the worst in basketball and…hey presto! You've got a seven game losing streak.
AC: As a result of the Jrue Holiday-Nerlens Noel draft day trade, the Sixers will receive New Orleans' top-five protected first round pick in 2014. The Pelicans are 12th in the loaded Western Conference at 15-20, with the pick currently slated to be in the 11-12 range, however, the team recently lost both Holiday and Ryan Anderson to significant injuries. Should Philly fans be concerned that the pick is in danger of the protected territory, or excited to see it slide to a more favourable spot in the lottery?
TS: Excited. While Sixers fans are, as you pointed out, in the delicate position of rooting for a very narrow band of outcomes for the Pelicans (the porridge has to be just right) the New Orleans roster is strong enough that, even with the recent spate of injuries they've suffered, it's hard to imagine them finishing 2013-14 with a worse record than the dreadful quintet that's currently at the bottom of the league standings (Milwaukee, Orlando, Utah, Philly and Boston). Especially if the apotheosis of the 'Brow continues.
AC: Philadelphia failed to win a game in regulation from November 9 to December 29, how tough was it to follow the team during that stretch, and what do you look for when you watch Sixers games in the 2013-14 season?
TS: Losing isn't fun, but it doesn't sting quite as badly when it's expected and purposeful. (To test this point: take an informal survey of the mood of Sixers fans and Knicks fans.) And about that "purposeful" losing: The fact that the Sixers didn't win a game in regulation from Nov. 9 to Dec. 29 wasn't a failure—it was a triumph of roster engineering. The Sixers were doing precisely the thing they were designed to do: lose enough basketball games to land a difference maker in the 2014 draft.
Until then, I'm paying attention to things that will matter in 2014-15 and beyond: Michael Carter-Williams development as a distributor, defender, and possible first offensive option on a contending team. The trade value of Hawes, Turner, and Young. How Brett Brown's acquitting himself as a head coach. Frankly, I'm encouraged by all of it. There's a lot to like here.
AC: The Sixers have been a topic of trade rumours all season long – including Liberty Ballers' report that Thaddeus Young formally requested a trade – with a particular emphasis on Evan Turner, Spencer Hawes, and Young. They were also involved in discussions centred on disgruntled Rockets centre Omer Asik, according to ESPN.com's Marc Stein. Who, of the Turner/Hawes/Young trio, do you expect to remain on the Sixers roster beyond the February trade deadline?
TS: I expect they'll each be gone by the deadline. Hawes is developing a killer perimeter game (he's quietly 12th in the NBA in 3-point FG%), but he's a free-agent at season's end, and might be expensive to resign. Thad Young is under contract at a reasonable (if not overwhelmingly team-friendly) rate, but will be 28 at the start of his next deal—a point at which he, given the extent to which his game hinges on hustle and athleticism, might be beginning to decline. And Evan Turner is simply a bad player who, because he can score, has greater perceived value than actual value. With Hinkie pulling the strings, Turner is almost certainly playing in a new city by February.
AC: This team is a clear #1 in the NBA for pace of play, per basketball-reference.com, averaging over 100 possessions per game. They're averaging 102.5 points per game, twelfth in the league, but are also dead last in opposition PPG and ranked 26th in the Association for defensive efficiency. How have you judged Brett Brown's rookie season as head coach, and do you think the style of play that he's employed for these Sixers is sustainable beyond this season?
TS: I think Brown's been tremendous. He's demonstrated his player development chops (see: Michael Carter-Williams' success) and, in a few short months, transformed the Sixers offense from a slow, plodding, midrange-enamoured catastrophe into the fastest team in basketball and a model of smart shot selection. Not bad. And I expect this approach will pay dividends over the long haul: playing fast forces matchup problems, wears down teams that aren't as well conditioned, and reduces variance. These are all good things.
If you wish to show some love for those in the City of Brotherly Love, you can follow Tom on Twitter @tsunnergren (I recommend), and track the content of Hoop76 @Hoop_76, and at
Hoop76.com
.